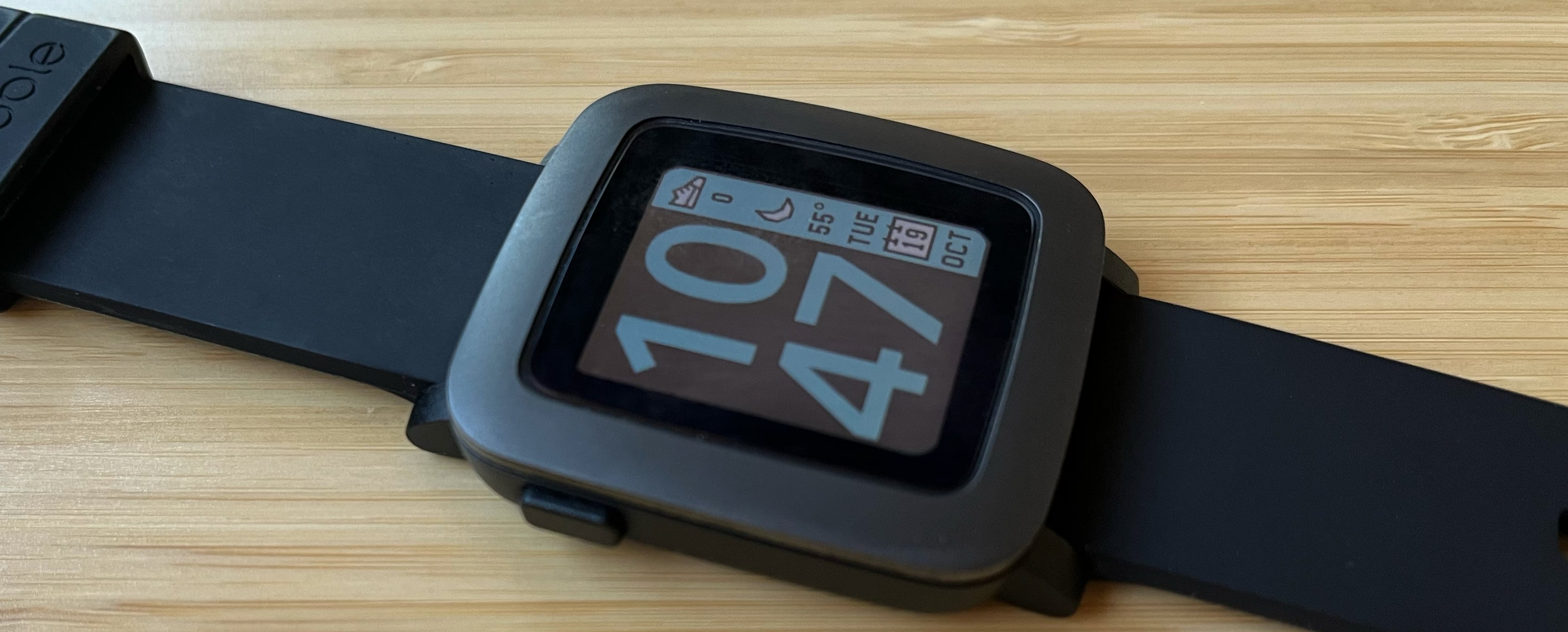 Way back in May of 2015, I received my Pebble Time. The Pebble Time was a smartwatch with a color e-paper screen and the most successful Kickstarter campaign of all time. Unfortunately for my Pebble Time, I received an Apple Watch as a gift a few days later. After six years with an Apple Watch, I decided to revisit the Pebble Time.
Updated 10/18/21 to add a note about the removal of the Pebble App from the Apple Apps Store
Unboxing
"Revist" is a bit of a lie. I never actually used my Pebble Time. I opened the box, but I'd never even turned it on. I fished the box out of storage, plugged in the magnetic charger and connected it to the watch. After a few seconds, the watch sprung to life. The battery wasn't completely dead, so the next step was to figure out how to set it up. The one problem is that Pebble had ceased to exist as a company in 2016.
The Demise of Pebble, the Rise of Rebble
The Pebble company announced in December 2016 that they'd ceased operations and their IP was being purchased by Fitbit. While Fitbit graciously kept Pebble services running until June 2018, I rediscovered my Pebble Time August 2021.
Luckily, there was a group of Pebble fans that decided they wanted to keep their Pebble watches going. They formed Rebble, and offer their Rebble Web Services to keeps Pebble watches functional.
Setup
Setting up my Pebble watch in 2021 was actually pretty simple. The Rebble website has a very thorough guide to setup a Pebble on iOS or Android. On iOS, Rebble uses the existing Pebble app to setup the watch, but then connects it to the Rebble servers.
As of October 4, 2021, the Pebble app was removed from the Apple App store, but the app continues to work if it was downloaded previously. The Rebble team is developing an alternative app, but there is no ETA. For Android, there is a direct download link to the Pebble APK.
Once I walked through the setup process, I had a fully functional Pebble app with a watch face gallery, app store, notification and Apple Health integration.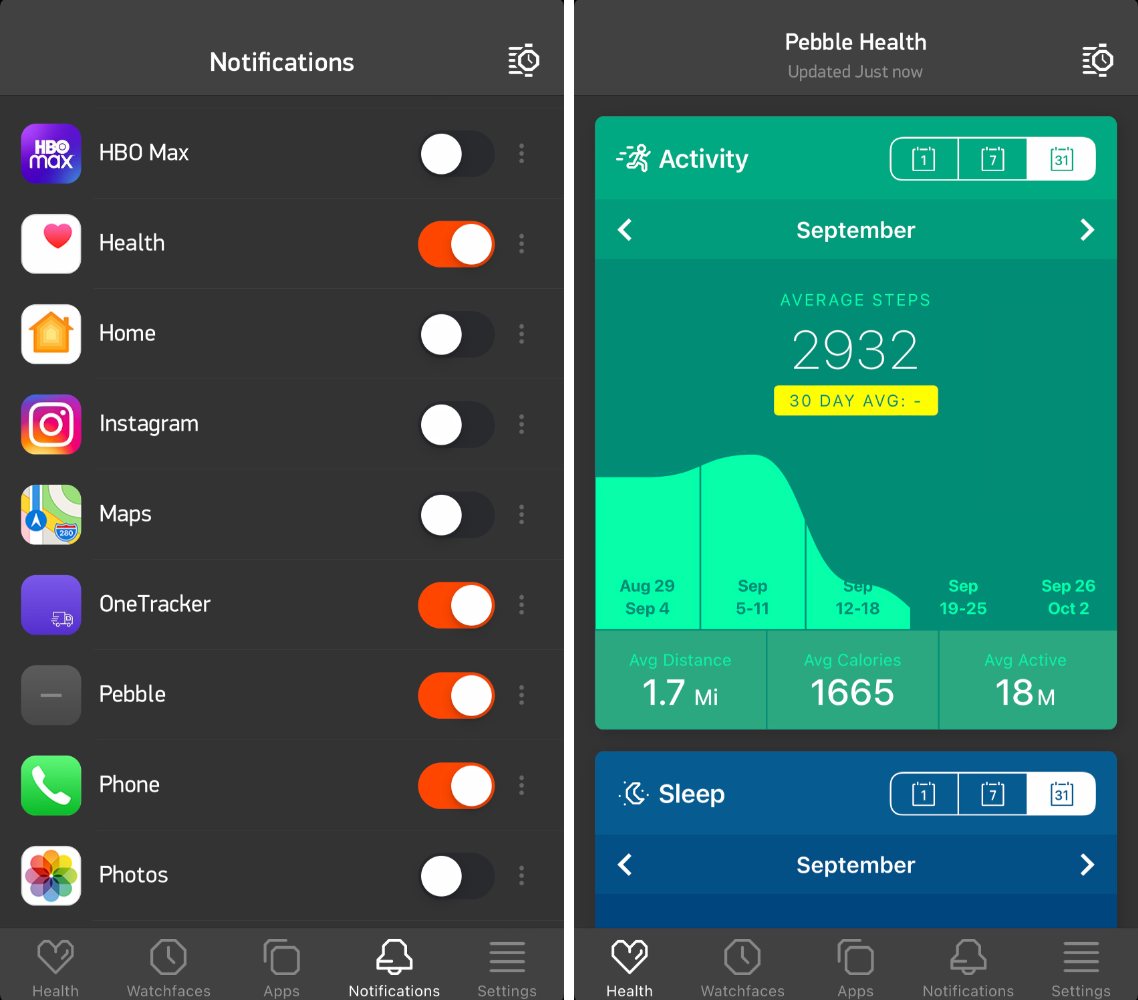 I should probably walk more during the day...
Watchfaces
The Pebble watch face library is enormous (I stopped counting once I got to around 1500). Unlike Apple's tightly controlled and curated watch faces, Pebble's are user generated. This also means there are a lot of not so great watch faces to wade through.
One thing to note is that I couldn't get all of the watch faces to work properly. Some that updated the image based on the current weather never updated from the default. Many had weather widgets that never updated. My guess is that they are accessing weather APIs that no longer exist or changed in some way over they years. The ones that still worked required a (free) OpenWeatherMap API key.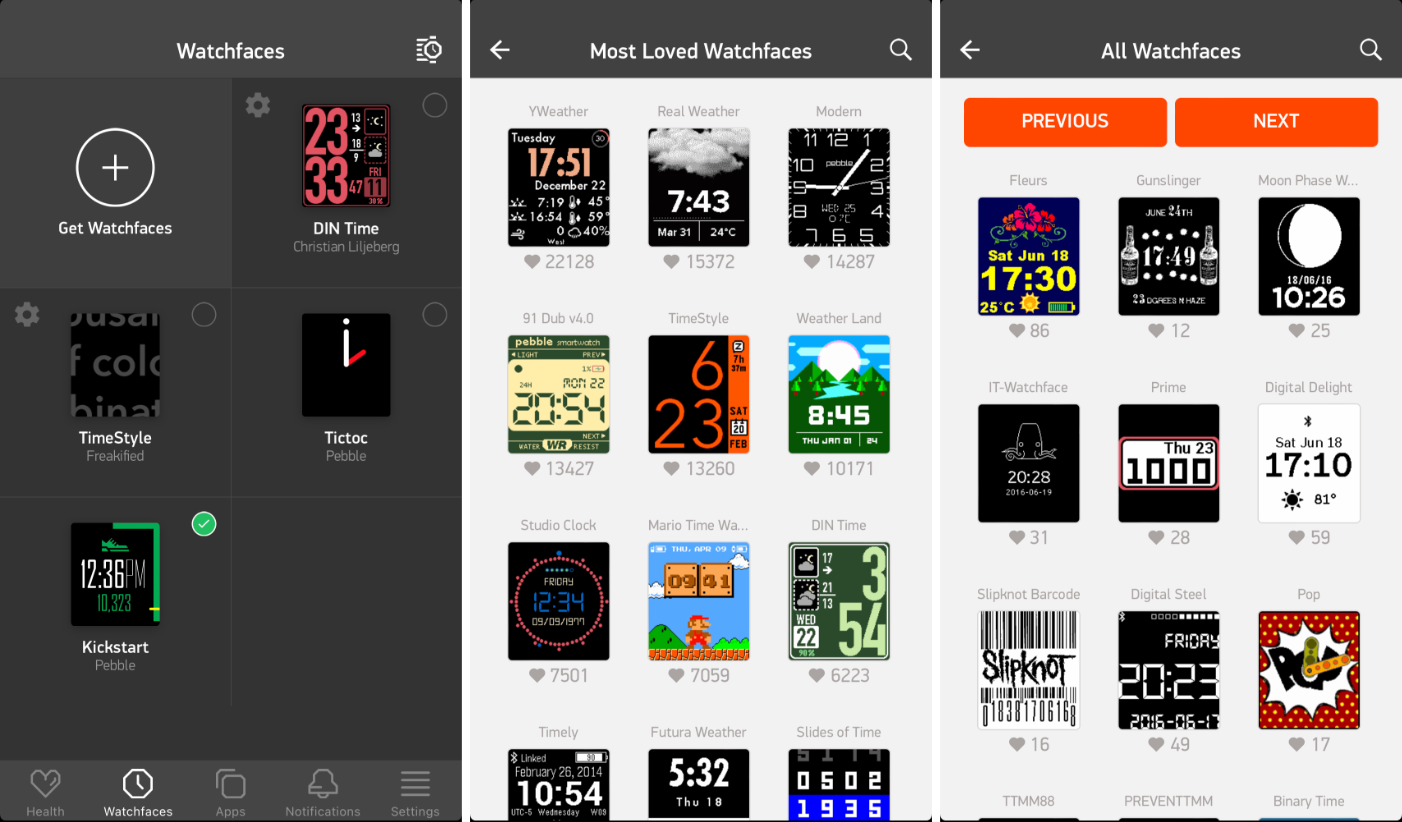 Apps
It was a similar story in the Pebble Apps store. Lots and lots of user submitted apps to wade through. Further complicating things, not all apps supported iPhones. Android grants Pebble much deeper access, and some of the most useful apps only worked on Android phones.
Not all apps listed in the store still worked so I installed a bunch and then uninstalled a bunch. I primarily use my Apple watch for notifications and the time, and none of the Pebble apps seemed compelling enough for me to change that habit.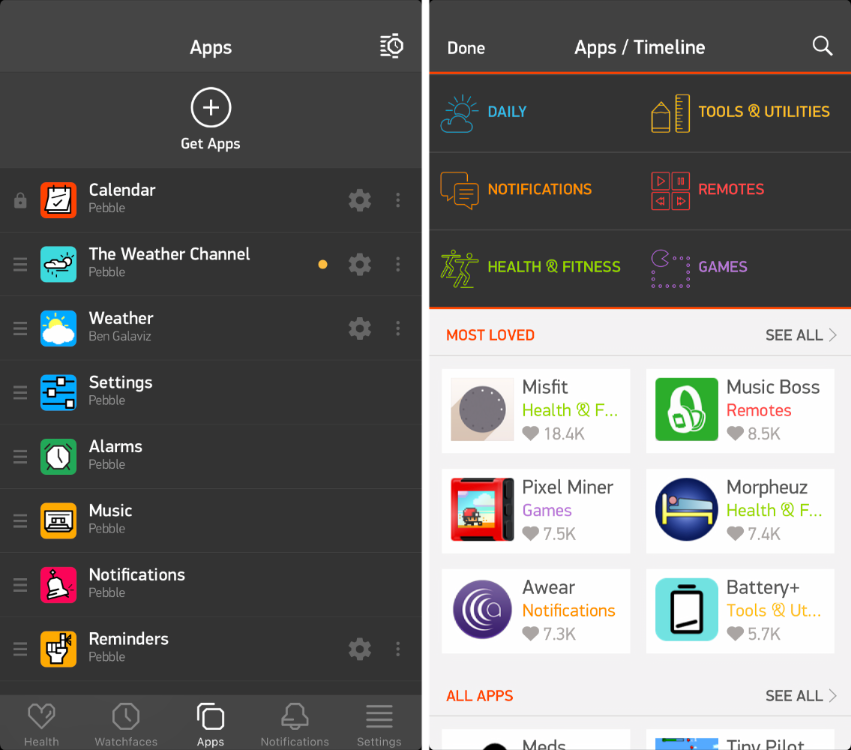 Final word
For the three weeks I used my Pebble Time, I can say I was pretty impressed. Even after all these years, the watch was still pretty useful. I loved the battery life (about four days without charging for my use) and the always on screen.
The biggest drawback was that the Pebble didn't show notifications for iOS Messages (Text or iMessage). The number one reason I wear an Apple Watch is to get notifications, and not having Messages notifications was a bit of a deal killer. According to the Rebble Discord this stopped working around July 2021 and I didn't see a resolution.
If I was an Android user, the Pebble Time might be my go to smartwatch, but until the Messages notifications are fixed, I'll stick with my Apple Watch.
---
See also